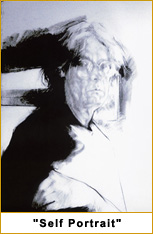 An internationally known artist whose work is best described as figurative, he concerns himself with the representation of political and social realities. He is included in Who's Who in American Art and studied on a Group Studies Fulbright Grant in Costa Rica, Central America, received the 1993 Visual Art Award of the Mississippi Institute of Arts and Letters, and an Individual Artist Fellowship from the Mississippi Arts Commission.

His most recent exhibition is a one person show at the Contemporary Art Center of Peoria, Illinois. In October, 2004, he will exhibit during the "Art for Art Sake" weekend at the Carol Robinson Gallery in New Orleans. He also exhibited in Outward Bound: American Art on the Brink of the 21st Century. The exhibition is now traveling to Bejing and Shanghi, China; Hanoi and Ho Chi Minh City, Vietnam; Jakarta, Indonesia; and Singapore.
His resume includes a number of solo exhibits at such notable institutes and galleries as the Meridian International Center, Washington, D.C.; Stadtsche Galerie Paderborn, Paderborn, Germany; Der Kunstkreis Hameln, Germany; Oldenburger Kunstverein, Oldenburg, Germany; National Academy of Sciences, Washington, D.C.; S/R Gallery, Beverly Hills, California; and Carol Robinson Gallery, New Orleans, Louisiana. His work has been shown in 35 states including exhibits inthe Smithsonian Institution Traveling Exhibition Service (1979-1981); Images 84, Louisiana World Exposition, New Orleans, Louisiana; American Drawings II, Portsmouth Community Arts Center, Portsmouth, Virginia; WEST 79 and 80 / Art and Law, Minnesota Museum of Art, St. Paul, Minnesota; and 36th Annual Exhibition of Contemporary American Painting, Society of the Four Arts, Palm Beach, Florida.
Allens work hangs in such permanent collections as Coos Art Museum, Coos Bay, Oregon; City of Hameln, Germany; Huntsville Museum of Alabama and Robert I. Kahn Gallery of the Temple Emanu El in Houston, Texas.
He is represented by Carol Robinson Gallery at 840 Napoleon Blvd, New Orleans, Louisiana 70115.
---
| | |
| --- | --- |
| | Please review the article in "Art and Antiques", to find out more about Jere's work. The article is from November 1999, and on pages 106-110 entitled "Studio Session." |